According to the latest Producer Price Index (PPI) report released by the Bureau of Labor Statistics, overall building material prices have increased 19.4% during the past 12 months and 13% year to date.

This graph published by the National Association of Home Builders illustrates the pace at which material costs have escalated in 2021.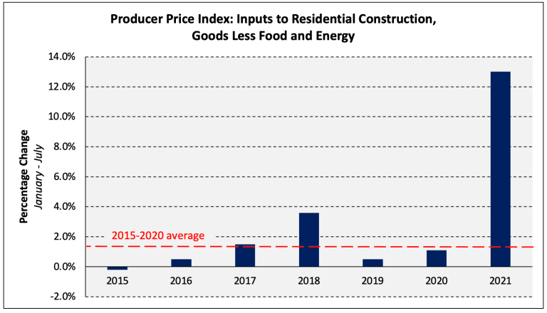 Construction is moving at a rapid speed but price hikes could put your insureds at risk. To prevent a possible loss, there are some topics to consider when offering coverage for certain commercial, and personal lines, risks.
Supply Chain Delays
If the insured is waiting on materials to complete a structure, it's possible the materials could arrive past an allotted policy period. Understanding whether materials are already on-site could be useful to a client that is requesting a policy for a project which occurs within a specific window of time.
Reconstruction Costs
If your insured suffers a loss, the cost to rebuild may exceed the limits of their insurance policy. If construction was already quoted but has yet to begin, the cost of construction may change from the initial statement of work. It will be important for the insured to update their cost of construction at the time of the project or verify that costs will not increase during the construction period.
Actual Cash Value (ACV) Versus Replacement Cost
If you're working on a new business or a renewal policy, now is the time to review the valuation of their property. Policies that offer Replacement Cost will cover the cost of materials and labor to rebuild the structure with materials of like kind and quality, providing the value of the home is adequately documented on the policy. The ACV of a property may not adequately cover the cost to rebuild their property since depreciation is factored into the valuation at the time of loss. ACV could be even more detrimental during this 2021 increase in materials cost.
Analysts are still formulating models to project the future of construction costs and how they will impact our economy. At present, agents, brokers, and insurers must be educated on the current state of the construction industry and how clients will be impacted.