New England Excess Exchange, Ltd. (NEEE), an independent wholesale broker and MGA based in Barre, VT, is pleased to announce that we have been named one of the 2021 Best Places to Work in Vermont. This is the first year NEEE has achieved this accolade.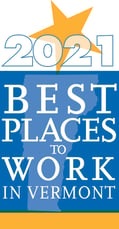 The twelfth annual list of the Best Places to Work in Vermont was created by Vermont Business Magazine, the Vermont Chamber of Commerce, the Vermont Department of Economic Development, the Society for Human Resource Management (SHRM) – Vermont State Council and Best Companies Group.
"We owe this honor to our dedicated team members that persevered over the last 12 months through unprecedented times." Says Kelly Hadiaris, Chief Operating Officer. "Through our commitment to flexible schedules and virtual technology, we believe we created an atmosphere for employee growth and stability. We look forward to our future and continued achievements as an organization."
This statewide survey and awards program is designed to identify, recognize and honor the best places of employment in Vermont, benefiting the state's economy, its workforce and businesses. The 2021 Best Places to Work in Vermont list is made up of 50 companies.
For more more information on the Best Places to Work in Vermont program, visit www.BestPlacesToWorkVT.com.
---
About New England Excess Exchange, Ltd.
NEEE is New England's premier independent Wholesale Broker and Managing General Agency (MGA) serving independent insurance agents in VT, NH, Maine, NY, NJ, MA, CT, RI, MD, PA and OH. For more than 39 years we've been a committed partner dedicated to building your agency. NEEE is headquartered in Barre, VT and is devoted to insurance excellence throughout our region. For more information visit www.neee.com.