Join us on Thursday, May 21st at 5:30 PM via Zoom for a 30 minute presentation: Veggie Gardening 101 and Beyond by UVM Master Extension Gardener, Gordon Clark.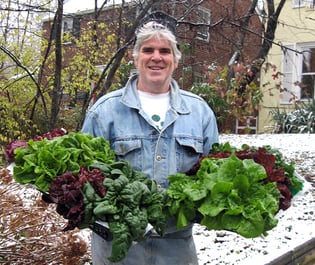 Ask Gordon a question! Curious how to properly grow your lettuce? Perhaps you want to know what compost is best for your vegetable garden? Forward your gardening questions in advance to marketing@neee.com and Gordon will answer them in the Q&A following the presentation.
Presenter Gordon Clark is a UVM Extension Master Gardener, a lifelong social change organizer, and a long time community food gardener.
Gordon is the former director of Peace Action, the nation's largest grassroots peace and disarmament organization, and in 2009 founded Montgomery Victory Gardens, a non-profit education and advocacy project focused on building a more resilient and sustainable food system in his then home of Montgomery County, Maryland.
Gordon speaks and writes on food gardening topics, and is proud to acknowledge that his growing successes narrowly outnumber his failures. Gordon moved to Vermont in 2016, and earlier this year founded Vermont Victory Gardens, to help produce more food during the pandemic for Vermonters struggling with hunger. He lives in Burlington with this wife Emily, their dog Izzy and their cat Meeka.