NEEE was pleased to sponsor and present the 2020 Vermont International Association of Insurance Professionals (IAIP) Member of the Year award. The award is presented annually to one deserving Vermont I
AIP member. Each year, peers nominate the winner to receive the prestigious accolade.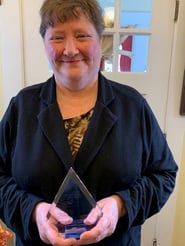 This year's award was presented virtually at the annual Commissioner's Night event hosted by the Vermont Association of Insurance Professionals (VTAIP) and the Champlain Valley Association of Insurance Professionals (CVAIP).
This year's recipient is Pat Murray, CPCU, CIC, CRM, CISR, AAI, AIC, AIS, API, PIR, ARM, AU, DAE, CPIW. This recipient has shown that she is well-deserving of the annual honor. Through her IAIP involvement, community outreach, and professional experience, Pat received numerous nominations and peer recognition statements.
In addition to her work at the State of Vermont Department of Financial Regulation as a Senior Rate and Forms Analyst and Outreach Coordinator, Pat also dedicates time to teaching insurance professionals and mentoring new insurance leaders.
According to one anonymous peer nomination, "She has contributed to the IAIP on the local, state & national level. She is an asset to our organization. A fantastic resource for all of us; she is knowledgeable in many areas of the industry. When instructing a class, she presents the material in an informative and entertaining way. I don't believe I have ever seen a person walk out of a class instructed by her without a smile on their face."
To learn more about the IAIP and other insurance opportunities, visit internationalinsuranceprofessionals.org.